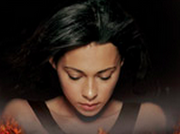 Lela is a strong, determined young woman who is on a quest to save her best friend, Nadia. She is the main protagonist of the Guards of the Shadowlands series.
A WEEK AGO, SEVENTEEN-YEAR-OLD LELA SANTOS'S BEST FRIEND, NADIA, KILLED HERSELF. Today, thanks to a farewell ritual gone awry, Lela is standing in paradise, looking upon a vast gated city in the distance – HELL. No one willingly walks through the Suicide Gates, into a place smothered in darkness and infested with depraved creatures. But Lela isn't just anyone – she's determined to save her best friend's soul, even if it means sacrificing her eternal afterlife.
As Lela struggles to find Nadia, she's captured by the Guards, enormous, not-quite-human creatures that patrol the dark city's endless streets. Their all-too human leader, Malachi, is unlike them in every way except one: his deadly efficiency. When he meets Lela, Malachi forms his own plan: get her out of the city, even if it means she must leave Nadia behind.
IN THE WEEK SINCE LELA RETURNED TO RHODE ISLAND as Captain of the Guard with Malachi as her second in command, local news has been dominated by chilling sightings of human-like creatures running on all fours. Lela knows there's only one explanation: the Mazikin have arrived in the land of the living.
Needing to maintain the appearance of a normal life for her foster mother, her probation officer, and her classmates, Lela returns to Warwick High along with Malachi. At night they secretly hunt for the Mazikin nest. To assist, two new Guards from very different parts of the Shadowlands are assigned to Lela's unit, including the bad boy Jim, who repeatedly challenges Lela's authority. Lela struggles to keep all her Guards on the right side of the law, but their mistakes come at a terrible cost.
As one painful revelation follows another and the Mazikin start targeting those closest to her, Lela finds herself more vulnerable than she's ever been, wanting a future more than she ever has. With an enemy determined to separate soul from body, one question remains: how much is she willing to sacrifice to protect those she loves?
LELA PLUNGES INTO THE DEPTHS OF HELL TO FREE MALACHI FROM CREATURES THAT HAVE WAITED DECADES TO EXACT THEIR REVENGE. But the Judge has her own way of doing things, and Lela must work with Ana, the new Captain, who has a very personal mission of her own. Together, they infiltrate the most horrifying realm either has yet encountered in the Shadowlands—the bitter landscape ruled by the Mazikin.
THE STAKES COULD NOT BE HIGHER, and Lela must accept the help—and love—of people she barely knows or trusts. As alliances and loyalties shift and she realizes the soul she came to save isn't the only one in need of rescue, can Lela summon the strength to see the fight through to the very end?